To watch a sunset in Dallas or Fort Worth, you don't need to go to an exotic place. You just need to go to all the right places to witness this incredible moment to leave you speechless. Here are five great places to watch a sunset in Dallas.
Trinity Overlook Park
The Trinity Overlook Park serves as a neighborhood "pocket park" providing access to the Dallas Floodway and the Trinity Skyline Trail. The Overlook has parking spaces for twelve, views of downtown Dallas and of the Margaret McDermott Bridge to the south. From here, looking North and south you will see the lights for Dallas come alive as the sunsets.
Cedar Hill State Park
South of DFW in Cedar Hill is Cedar Hill State Park. A relaxing way to end a day on the shores of the 7,500 acres of Joe Pool Lake looking west at the sunset. While waiting for sunset, you can hike, bike, or picnic in the park. The park can get crowded on weekends so you should reserve passes online.
Dallas Reunion Tower
Located in the Hyatt Regency Hotel complex this icon of the local skyline reaches 561 feet into the sky. Dramatic views from the observation deck will provide a spectacular sunset on almost any day of the year. There is also a cafe on top of the tower if you need a bite to eat while waiting for sunset. The tower also hosts special events such as Painting With a View, Sunset Yoga and Paint Your Pet. The next time you are in the Metroplex give the tower a visit.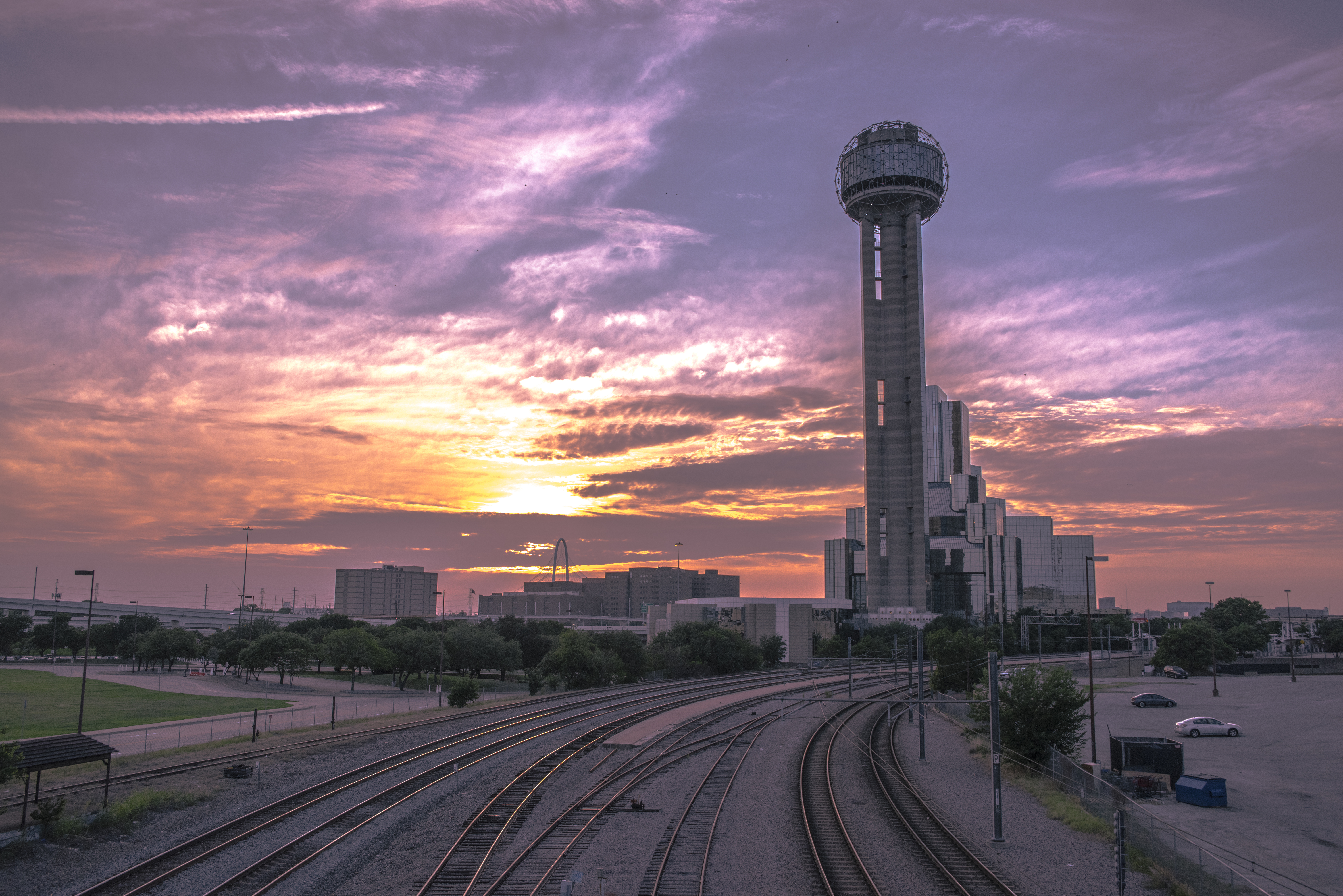 Lake Carolyn
The lake offers a picturesque, Dallas vibe with an urban backdrop. Here, you can ride the romantic gondolas or sail through the canals or take a walk around the lake as you enjoy the views of the beautiful sunset with golden rays piercing through the modern building in the area. Visit the lake in the evening for the best sunset pictures. Seeing the sunset from the water of this urban lake will be a unique memory no matter what model you use to get on the water.
Overlook Trail at Eagle Mountain Park
Located just 15 miles northwest of downtown Fort worth this park is an escape from the city with 450 acres of fantastic views. The perfectly named "Overlook Trail" provides a magnificent view of the West.